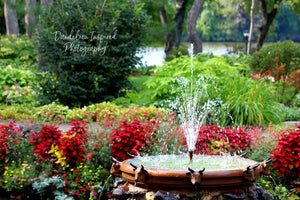 Munsinger Gardens Visit
June Update
It's been a while since I have updated the blog part of this website. Truthfully, I plan to update at least weekly, but the past couple of months have just been transition. And with that, I have just given myself time to go through that transition.
I mourned leaving the church I worked for, the children, the volunteers in the kid's ministry, and the staff. Even when you know God is leading you to do something, it doesn't make it easy to say farewell.
It's been a strange time to transition, with not being able to say goodbye, without being able to go into many places, and having to change our plans at least a dozen times. But that doesn't mean it's all bad.
We are happy. We love our little home. This is the first home; Jeremy and I have ever owned. We never knew how long we were going to be somewhere so buying just never seemed right. Until now, when we purchased this one. We love owning it and being able to make changes as we want. It is such a blessing.
Munsinger Gardens
For today I will share some pictures from last spring. I took the kids to Munsinger Gardens in St. Cloud Minnesota for an afternoon. It is a free garden, with lots of flowers, and paths to walk and it sits on the banks of the Mississippi river.
I seek out free things to do as a family. Oh sure we pay for some things that we do, but I like to find things that are free. Family fun & homeschooling is doable on a budget; you just have to be creative!
And with that here are some pictures from Munsinger Gardens. Enjoy!
I invite you to sign up for our email list. We won't bug you, but we will keep you up to date! Link to sign up is at the bottom of our home page. Thanks! 
***I have changed the name of my photography to match my online store. So you will start seeing "Dandelion Inspired Photography" instead of "Sarah Elliott Photography". However, on some pictures where I already have the older water mark in place, I will most likely leave it. It takes so much time to update every photo. Just wanted to share in case you wandered! 
---
2 comments