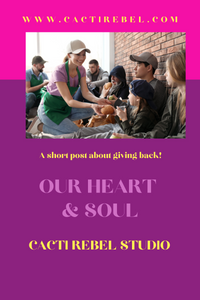 Trust your Rebel Heart - The Heart and Soul behind Cacti Rebel
For several years my husband and I served as overseas missionaries in both Europe and Asia. I worked with children and teens. Actually, I've spent the last 20 years working with children in some capacity.
After returning to the United States, I began to feel a stirring to a new season within my calling. The call was to help care for those working overseas in a missionary capacity and to give towards organizations that do work with children. 
For those reasons, Cacti Rebel was born (actually it was born with no name and went through a few but you get the idea). It's all about giving back. Its so easy to say "I want to help with this" or "I want to give to that" but it's not often we do something about it. 
This company is 100% about the doing. A portion of all our profits are going to organizations we have relationships and know the work they are doing first hand. This for us is the heart and soul. It's not conventional. But it's the right thing for us.
There is more coming! So much is stirring in my heart! But for today, I will just share this part. Stay tuned because the time will come to share more! 
So every time you shop, every sticker, print and card, it gives back!
---