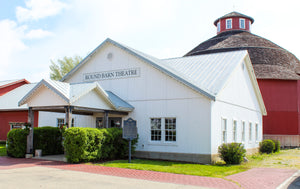 Nappanee Indiana, the sleepy little town you need to visit!
In May of 2021, I hopped a flight out of sunny Arizona and made my way to Nappanee, via Chicago. The flight is a short 3 hours and its direct from Phoenix. On the ground in Chicago, I met up with a friend, we grabbed a rental car and drove the 2 hours to Nappanee. 
Now you might be wondering what took me to this town, you have probably have never heard of in the middle of Indiana? Well this place pictured right here!  
This is the Round Barn Theater which is part of the Barns of Nappanee. This very special theatre, is responsible for producing the original musical "When Calls the Heart", based on the books by Janette Oke. 
I have been reading Janette Oke books since I was a pre-teen and I still love them to this day. I am also an avid fan of the TV series, inspired by the books. So, when I heard that a musical had been written I knew I had to go see it. 
(This picture was taken with permission from Christy Stutzman -owner, for advertising purposes only. Taking photos or videos during live performances is not allowed without prior permission.)
Before, I go any further into this trip, let me say - the musical - it blew me away. This theatre produced a Broadway quality show. I was astounded by the quality, the acting, the music, everything. It was top notch and I full recommend it for any performance. (And just as a side note, they are bringing When Calls the Heart back in late May through part of June!) 
In case you are wondering - it is based on the first book in the Canadian West series, also titled When Calls the Heart.

This is inside the theatre. It really is an old barn that was moved to the property many years ago, restored and then turned into a theatre. It is a beautiful place and the acoustics are great. 
For my trip, I signed up for a VIP weekend for fans of the TV show. This included some wonderful extras, that again, I recommend. (And just in case you are wondering, this post isn't sponsored, this is just my opinion.) This photo above is from a meet and great. We had the privilege to do a meet and great with the cast and crew. We also had a Q&A session with some of the writers, including producer Brian Bird from the Hallmark hit TV series and owner and writer of the musical score for When Calls the Heart the musical, Christy Stutzman.

Next we had a backstage tour, seeing the dressing rooms, makeup areas, and learned all about costuming. It was very interesting to learn all that goes into making this come alive. One of the parts I found fascinating was, how the costume person found, modified and created the costumes for a production like this. 

If you wish to purchase a print of any of these photos, they are available here:
https://fineartamerica.com/profiles/13-sarah-elliott

The grounds of this property are gorgeous. Maybe that's because of living in the desert and not seeing grass everywhere! lol 
The days we were there we mostly amazing weather (although there was a crazy snow on Mother's Day!) The sky, the grass and the barns were just stunning. 
This building holds a great restaurant. A wide selection is offered and the food is very good. The other part of the red building offers locations for classes, special events, and private parties. 
No visit to the Barns at Nappanee would be complete without running into one of their local peacocks. At that time of my visit they had 2. And if I remember right, one of them is named Kevin. 
The Barns of Nappanee used to be called Amish Acres. If you are not familiar with the Amish life, there are fantastic tours here. I took the house tour, which goes through one of the original Amish houses on the property and shares what everyday life is like for Amish in that area. 
I also took the buggy tour, and the wagon tour - which includes a stop at the school. Amish school life was also very interesting. 

Who can resist a stop and small the flowers kind of picture? Not me! 
The property also houses an Artesian shop full of locally made items. I grabbed some cute earrings for my mom, and hand sewn purse for my daughter. 
And of course you need to stop at the ice cream, chocolate and coffee shop. For our weekend the chocolatier made chocolates in the form of a Mountie shirt. They also offered a class where you could learn more about chocolate making. 
This is inside the tea and coffee side. I made a couple of stops here. It was delicious! 
On our very last night, the rain and snow cleared and I caught these beautiful sunset shots. The white house in front is a small Amish home that is part of the tour, and the larger one in back is also. One of our buggy drivers had family members born in that larger one. 
This trip was pretty memorable. I enjoyed it with friends, but it's also perfect for family. The musical is great for all ages, and of course anyone who is a fan of the TV show or the books. 
As you plan your summer travels, think of Nappanee, and make a fun little stop for the weekend. You'll be glad you did!
You can find more information about the musical, other shows and everything offered at the Barns of Nappanee through these websites:
https://thebarnsatnappanee.com/
https://www.roundbarntheatre.com/
---
1 comment